SIP Trunking and Business Messaging Platform for Mission-Critical Voice Applications
Flowroute provides industry-leading management capabilities and patented technology to ensure business continuity.
Flowroute is a self-service, 100% cloud-based SIP trunking and SMS platform that gives organizations with contact centers, CPaaS, and on-premises or virtualized PBX systems everything they need to run mission-critical voice applications.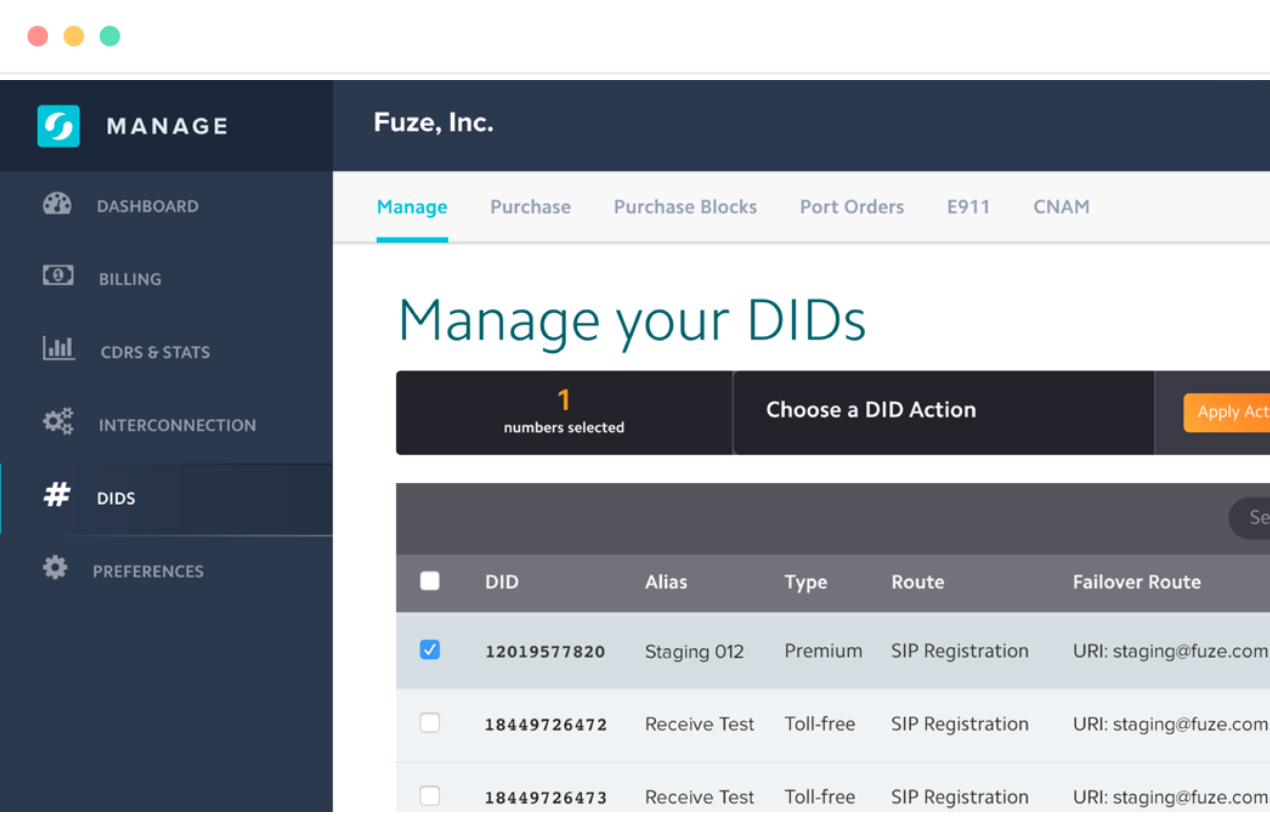 Flowroute is the ONLY business voice platform in the US that provides true resiliency for DIDs.
With Flowroute, you maintain full control over your platform with cloud-based communications services that are cost-effective, reliable, and stable to power your vital business operations.
Easily connect an existing PBX system or an analog/digital telephone adapter in minutes and experience clear, reliable, and high-quality connections for inbound and outbound calls.
Purchase local, toll-free, and vanity numbers in the US and Canada, or port your existing numbers, and enhance your Flowroute DIDs with caller ID, Enhanced 911, CNAM, and more.
Easily integrate SMS to create an omnichannel customer experience with appointment reminders, proxy number messaging, automatic surveys, and two-factor authentication.
Create a more immediate, engaging customer experience that delivers all of the benefits of SMS plus the ability to send rich image, video, and audio content.
Reliably and securely send and receive faxes from anywhere using our quality T-38 routes that minimize fax failure rates.
Easily forward your numbers to other numbers on demand through your Flowroute portal to ensure business continuity no matter where you are.
Industry-Leading Management Capabilities
Flowroute hands you the keys to your system, giving you easy-to-access management capabilities from your Flowroute portal. Don't worry—we're always here to help with our award-winning support.
Access your voice/SMS dashboard to monitor usage and costs, purchase numbers, create primary and failover inbound routes, set up fraud protection, perform bulk actions, and more.
Get peace of mind with 24/7/365 access to Flowroute's knowledgeable Customer Support Specialists at no charge.
Numbers and messaging APIs
Enjoy rich programmatic access to telephony resources to automate your telecom processes and enhance your applications with SMS and MMS capabilities.
Secure your business with the ability to disable outbound SIP credentials, set maximum outbound rates, whitelist destinations, alert and restrict activity, and act fast on toll fraud.
HyperNetwork

™

:
Unmatched Business Continuity
Flowroute's exclusive HyperNetwork™ and automatic failover routing tools provide the most resilient, inbound phone number service in the US. HyperNetwork helps mitigate outage time by detecting upstream network impairments and quickly rerouting DID voice traffic around them to successfully complete inbound calls. Historically, in the US, the only way to address outages—especially for mission-critical inbound calls—was to port numbers, which could take days. Because HyperNetwork dynamically changes the routing of telephone numbers, calls arrive over a different path than the one originally assigned.
13,000 nearly 13,000 on-net rate centers
15,500 nearly 15,500 phone number rate centers
99.999% uptime
Zero grey routes or aggregators
#1 in customer satisfaction
2 week porting time in a two-hour scheduled porting window
3 minutes to get up and running
What Our Customers Are Saying
Experience Flowroute for yourself and discover why Flowroute is consistently rated the #1 SIP trunking provider in customer satisfaction.
I have zero reservations about recommending Flowroute.
Flowroute is consistent and reliable.
Fast support, friendly staff, excellent uptime! Would highly recommend Flowroute!
Verified User in Financial Services
Flowroute is a reliable, stable, economical sip trunk provider.
Excellent VoIP Service Provider.
Verified User in Telecommunications